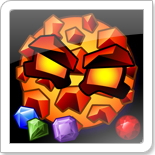 BABO CRASH NOW FREE!!
Now most of you are aware of Samsung's ongoing Hottest Apps for Free Promo,
where popular Paid Apps are offered for free on a limited time offer thru Samsung's Bada Store.
Babo Crash has been added the list of the apps in the promo, joining the company of
Plants Vs Zombies, War of Mages and other enjoyable games plus useful apps.
This is not just another bejeweled clone!
The graphics effects are top notch! Includes fiery explosions and wacky hero transformations.
The game allows posting of your top scores online to compare with international players.
Offers hours upon hours of pure fun!
( i lost sleep over it playing it till 4am, i was that addicted a month back)
It pays to check KIES frequently for formerly paid games being offered as free apps.