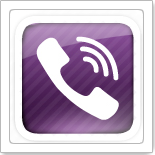 So after we contacted Viber many months ago we got to know that viber is developing a voip app for Samsung bada users and the told us that it will be released before this month ends.
You can read it here : http://badahub.com/2012/03/we-contacted-top-app-developers.html
And now it looks like we are just about to get Viber for our waves as there was a test upload of the app to the Samsung apps but it was removed after some time.
The same thing happened with angry birds app and then it was released after a week. So we will hope that Viber  will be released and will be available for download soon for all waves within a week or 2.
From the test upload we got the below information about the app.
Description
Send free text and photo messages to other Viber users, anywhere and to any device on the fly!
With Viber, you can send text and high-quality photo messages, and share locations with other Viber users, anytime, anywhere- for free!
Viber for Bada has a light and easy to use interface. No registration, passwords or invitations required.
Viber has an easy setup and syncs with your address book to give you the complete Viber experience.
*Messages may use your data plan
But as you all know it is not available for download just now so wait for it we will provide the download link so be patient till the final release. We will provide you the download link as soon as possible.
Screenshots
So the third screenshot shows us that there will be a VoIP feature in the app and it was also confirmed by Viber that they will provide a full Viber to bada with all the features. So we hope that the final release is a bug free version with a VoIP feature as promised.
So just wait for the final download link. Till then you can see the temporary download link form below and see how it will look like.